Some of our success stories are featured below. Many of these are due to a grant from People for Animals & Wildlife (P.A.W.).
Cali: 44 11/12 – Cali was a stray who came to us with a horrible skin and eye infection. She also had a condition called endotropin where her eyelashes were turned inward and would rub on her eyeball every time she blinked. Through all this adversity, she maintained her sweet disposition and after surgery and antibiotics (and a lot of baths), she was placed into a great home. See "before" on left and "after" on right.

Loverboy: 30 11/12 (black/white cat) – Loverboy came to us with a large scab on his head. He healed well and was placed into a loving home.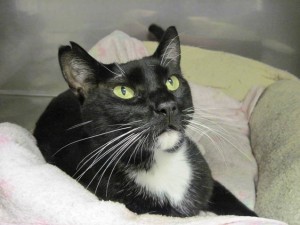 Daisy: 297 11/12 (older female hound) – Daisy was another stray who found her way to Groton Animal Control. She is exceptionally sweet and would "say hello" to us every morning with a little howl. She was in desperate need of dental work and was very quickly adopted into a great home.
| | |
| --- | --- |
| Daisy | |
Cassie: 246 11/12 (female corgi) – Cassie was signed over by her owner due to their inability to deal with her ongoing skin condition caused by flea infestation. She was placed on medication and given medicated baths and she began to improve. We found her a loving home with an owner who was able to properly care for her.