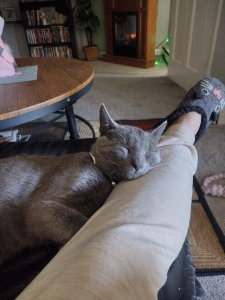 Name:Mr Gray aka Bubba
Male, Age: 1 1/2 yrs
Breed: Short hair
Color/Markings: All gray
Distinctive Features: Nerve damage on front left paw. Wound from walking on the side of his paw.
Has Collar: Y
Last Seen on: December 7, 2022
Last seen location: South Rd Groton CT
Notes: Mr Gray aka Bubba has nerve damage on his front left paw,which caused a wound on the side of the paw from walking on it differently. He has a wobble And drags his left front leg. Last seen he was wearing a blue bandage on his wound. He has an important surgery coming up for his leg.
If found, please contact: Andrea Buell
Email:
buell.andrea35@gmail.com
Phone: (518) 892-0554
---