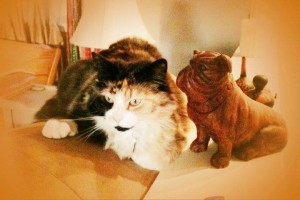 Name:Tessa
, Age: 7-9
Breed: calico
Color/Markings: mostly black and brown/gold with some white on face, belly, and chest
Distinctive Features: Thick long fur. Her tail was broken and healed crooked at the tip. It can be felt when she is petted.
Has Collar: N
Last Seen on: September 8, 2014
Last seen location: Ocean View Ave. Mystic, CT
Notes: She is an indoor cat that loves to sneak out at dusk to hunt mice. She always shows up the next morning at our window purring to get inside. This time she didn't come home.
If found, please contact: Greg Steele
Email:
gregsteele72@yahoo.com
Phone: (860)501-1944
---