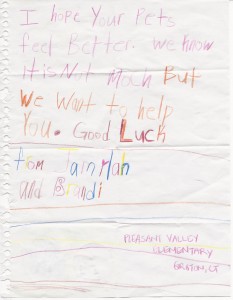 Fourth-grade students from Pleasant Valley Elementary School recently made a kind and generous donation to help the animals at Groton's animal shelter. Throughout the year, students are rewarded for good behavior with vouchers that can be used in the school store to purchase supplies.
In April, teacher Elena Lockett came up with an idea: students were given an alternative to spending their rewards at the store. Instead, they could donate those hard-earned slips of paper to help the animals at the shelter. The civic-minded students quickly seized the opportunity to help, and far exceeded the expectations of their teachers. By last week, they raised more than $700 for the animals! We think that's pretty amazing, and very generous. They have made all of us here at GAF, along with their teachers and parents very proud. There was even a wonderful story about their efforts in The Day.
The money these students raised will go to pay for medical care of animals at the shelter, so they have a better chance to be adopted. Often, this care is what makes all the difference in the lives of shelter pets looking for permanent homes with loving families.
Thanks once more to the students, teachers, and staff of Pleasant Valley Elementary School for their generous donation!