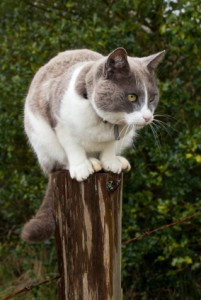 We've all felt it–that sinking feeling that overcomes us when we realize our cat has not come home when she should, or has slipped out of our home undetected. For panicked pet owners, there are a few things we can do to help locate a cat who has gone missing.
A good first step is to read and bookmark this excellent web page, Psychology and the Missing Cat. It describes many steps you can take to figure out your cat's probable location, based on its personality and other factors.
Another thing to do ahead of time is to microchip your cat. Microchipping gives you the best chance of being reunited with a lost pet. If your cat or dog is ever impounded, or taken to an animal hospital in an emergency, it will automatically be checked for a microchip and you will get a call a short time later. Many people don't get their pets microchipped because they fear the procedure is painful or expensive. It is neither. A microchip is about the size of a grain of rice, and can be inserted without anesthesia using a syringe. The cost is nominal, and your cat is certainly worth it. You'll also enjoy the peace of mind you'll have knowing you've given your pet the best possible chance of being returned to you.
Once you realize your cat is missing, your first call should always be to Animal Control. In Groton, the number is (860) 441-6709. Make sure Animal Control officers have your contact information should your cat be impounded. If they know where your cat was seen last, they may be on the lookout for it. Other techniques that work include posting on Facebook, and otherwise getting the word out on social media to friends and neighbors in your area. GAF's Facebook page will help with this, so please visit us. We also post information on our Google Plus page, and our Twitter account. It's also a good idea to check these pages if you spot a pet that may possibly be lost.
Finally, the Groton Animal Foundation maintains a missing cat page on our website. If you've lost a cat, you can submit a description and photo to us using this form. It's always a good idea to check the page periodically to see if you recognize any of the missing cats. Remember–many cats can be missing for a long time, so it's important to keep looking. Don't give up!