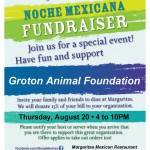 Join us at Margaritas Mexican Restaurant, 12 Water Street, Mystic, CT on Thursday, August 20th from 4:00 pm to close. Margaritas will host a Noche Mexicana Fundraiser and donate 15% of pre-taxed food and beverage sales from participating families, friends and supporters of the Groton Animal Foundation. Guests can choose items from any of their menus, takeout orders included.
Call ahead seating: (860) 536-4589.
We encourage students, parents and community members to join us as we raise funds to support the animals in the shelter. Please share this invitation with friends, family and community members.
If you have questions about this event, please contact Heather Picazio  or call (860) 287-6857.
Please download and print this handbill and present it when you arrive. Let your host or server know that you are there to support the fundraiser, so 15% of your pre-tax food and beverage purchases will be donated to the Groton Animal Foundation.