The Groton Animal Foundation will host a Tellabration for families on Saturday, November 17th. The doors open at 6:30 p.m. for the 7:00 p.m. show at the Groton City Municipal Building in the large council chambers. Tickets are $10 for adults and $5 for youngsters aged 8-18. Tickets may be purchased at the door. For more information email suzaro@snet.net. Teresa Whitaker and Frank Schwartz will be performing.
Tellabration is a mammoth storytelling event – and that's no Tall Tale! It's a storytelling phenomenon, made up of dozens of storytelling happenings all over the world. Its purpose is to introduce adults, as well as children, to the pleasures of the oral art of storytelling. It is one of the programs offered by The Connecticut Storytelling Center, based at Connecticut College in New London.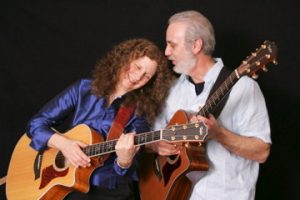 Teresa and Frank awaken imaginations with story and music. They infuse world folk tales, myths and original stories with rhythm, movement, creative dramatics and song. Using voices, guitar, harp, banjo and percussion they invite audience participation and inspire a love for these timeless stories.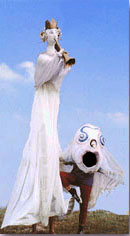 The Mystic Paper Beasts will greet attendees outside, before the show, and lead the way to council chambers. Audiences will see beautiful, creative masks and larger than life "Beasts".
Enjoy supporting this benefit for the Groton Animal Foundation while seeing the Mystic Paper Beasts rove outdoors prior to the show. Teresa and Frank will include some animal folk tales in their program.
A full listing of Tellabration sites in Connecticut with dates and times can be found here or by calling The Connecticut Storytelling Center at 860-439-2764.